Finding out about Marshalls dress code before your first day is a smart move. Starting a new job is stressful enough without worrying about being pulled aside because you're wearing the wrong clothes, shoes, or accessories.
And if you're still considering whether to apply for a job at Marshall's and wondering if your personal style will be an issue, you need to know about permitted hair colors, piercings, and tattoos.
The Marshalls store employee dress code is pretty casual, but the retailer has some guidelines in place, so let's look at the details.
What Is Marshalls' Employee Dress Code?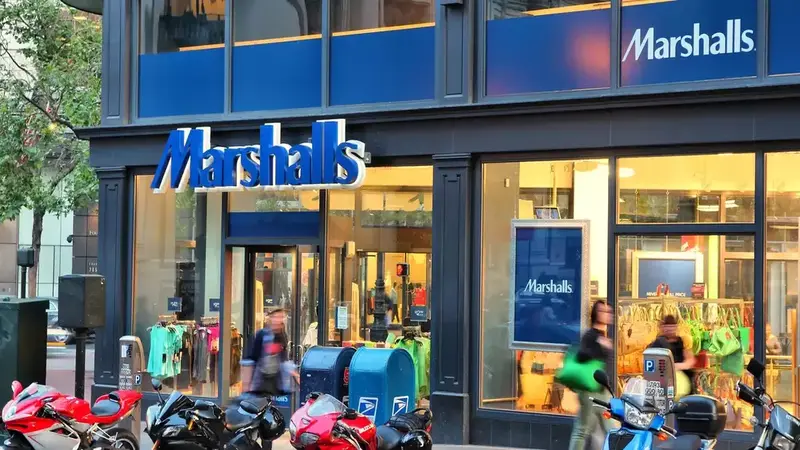 One of the main reasons people jump onto Google and search for Marshall's dress code is that they probably forgot to ask about the dress code during their interview.
If that's the reason you're here, don't worry. As we already mentioned, the dress code is fairly casual, so you're bound to have some suitable clothing in your closet.
Plus, your first day at Marshall's is spent going through orientation in a back room where you'll complete your employment paperwork and watch training videos before taking a tour of the store.
If your appearance isn't quite right during orientation, it's not the end of the world.
Your orientation session is the best time to ask your manager about the dress code. Marshalls has a general dress code, but some managers are pickier than others.
So while we'll give you the general dress code guidelines, your store manager will tell you exactly what you can and can't wear in their store.
Okay then, let's get started.
Marshalls Employee Dress Code Clothing Guidelines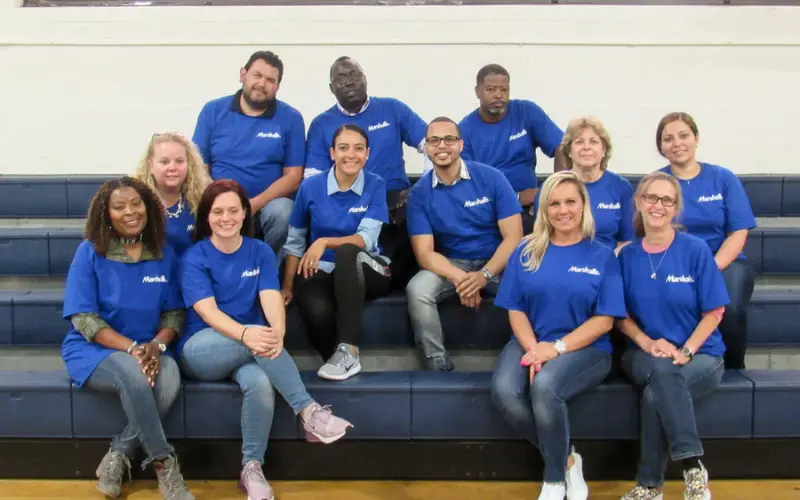 At Marshall's, all the staff wears casual clothing. But casual clothing means smart casual, not leisure casual. Don't turn up in lounge pants, joggers, yoga pants, sweatshirts, hoodies, or any other type of athletic wear.
What Pants Can You Wear?
In the not-too-distant past, all pants had to be dress pants or khakis, but Marshalls recently updated their dress code to include jeans.
Whatever pants you choose to wear, they need to be clean and rip-free and don't choose jeans that have frayed ankles.
Jeans should look smart, and that means no faded or washed-out denim. Your pants need to sit firmly at your waist or hips, so low-slung styles showing your underwear when you crouch aren't appropriate for Marshalls employees.
When you're selecting pants for your work wardrobe, make sure they give you room to move freely so you can bend and crouch.
Depending on your manager, you may be told to wear a belt if your pants have belt loops.
The Marshalls store employee dress code allows staff to wear leggings as long as the top worn with them fully covers their behind.
What about shorts? Can Marshalls employees wear shorts in the summer? The policy on shorts varies from store to store. Some managers allow employees to wear smart, knee-length shorts while others only allow cropped pants.
Read Also: How Much Does Marshalls Pay?
Skirts and Dresses – Length & Style Guidelines
Make sure your skirts and dresses fall at or below the knee. You can't wear short, revealing skirts or dresses. Dresses should also have sleeves. It doesn't matter if the sleeves are long or short, just don't wear a dress with straps instead of sleeves.
However, if you want to wear a top with sleeves underneath a sleeveless dress, that would be fine. And you can also wear a jacket or cardigan over a strappy dress.
As a matter of practicality and comfort, don't wear a tight-fitting skirt or dress that limits your ability to walk or bend.
Everything You Need to Know About Tops and Shirts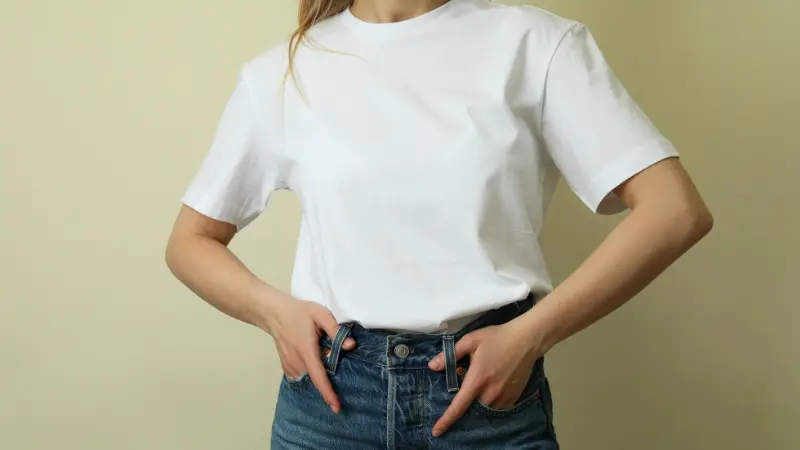 The Marshalls store employee dress code allows you to wear a wide range of tops and shirts with patterns or solid colors. Once again, sleeves are a must, and you can't wear tank tops or strappy tops unless they're worn underneath a jacket or cardigan.
You can wear tee shirts, blouses, polo shirts, button-down shirts, flannel shirts, smart knitwear, and jackets. Tops can be tucked or untucked.
A lot of Marshalls employees choose to wear tee shirts or polo shirts because they're inexpensive, comfortable to wear, and easy to take care of.
If a casual tee shirt fits your style better than a blouse or a shirt, just remember that you can't sport a showy logo or graphic design on your clothing.
A discrete logo like you find on a Ralph Lauren or Tommy Hilfiger shirt is within the Marshalls dress code guidelines, but a big Nike Swoosh on your shirt, character design or political slogan wouldn't be suitable.
Tops shouldn't be revealing. Avoid low-cut shirts and blouses, and don't wear a belly shirt or a top that will rise over your midriff when you stretch your arms over your head.
Cut-out panels and lace-filled panels are not permitted by the Marshalls employee dress code either.
What Shoes Should You Wear At Marshall's?
The Marshalls dress code calls for closed shoes. You can't wear sandals, flip-flops, or sliders.
Sneakers and tennis shoes are fine, your shoes don't need to be dressy. But make sure your sneakers are clean, not scruffy.
At Marshall's, you'll be on your feet all day, so comfort is a big priority, and retail employees tend to favor shoes with a flat cushioned sole over a heel. For additional safety, think about wearing shoes with a nonslip sole and some extra toe protection.
What Accessories Does The Marshalls Dress Code Allow?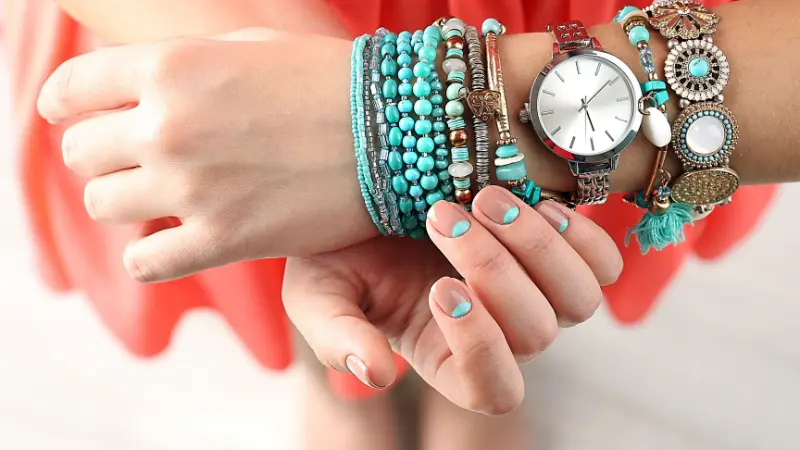 Can you wear jewelry, piercings, and hats while you work at Marshalls, and what's their policy on makeup?
Hats and Scarves
Hats, bandanas and head coverings aren't part of the Marshalls dress code unless the head covering is worn for religious reasons.
You may be allowed to wear a Santa hat at Christmas, and if that's the case at your store, your manager will let you know once the Christmas season rolls around.
A short decorative scarf may be allowed as long as it doesn't pose a safety threat, and if you want to dress up your outfit with a tie or bow tie, that's fine.
Jewelry
At Marshall's, you're allowed to wear jewelry at work, but be sensible about your choices. Jewelry that can catch on clothing or equipment is a safety hazard and any jewelry that can get caught can also break or get lost.
If you've got pieces you treasure, it's not a good idea to wear them for work.
Piercings
Marshalls doesn't mind staff wearing ear piercings or facial piercings. Although you could be asked to remove any piercings (those with chain attachments, for example) that could pose a safety risk.
Makeup
Feel free to wear your usual makeup at Marshall's. They don't restrict the palette of colors you can wear or the type of makeup that you use, but they expect you to look clean and presentable.
Keep in mind that you'll be busy during your shift at Marshall's, and you'll often get hot and sweaty. Your carefully applied makeup might not look so pristine after a couple of hard hours shifting stock from the delivery truck to the sales floor.
A touch of waterproof mascara and a slick of lipstick is usually a better choice than full foundation, contouring, blush, eye, and lip color.
Acrylic Nails
Marshalls doesn't have a dress code policy against acrylic nails, but you'll find that long nails get in the way of your work, and with long acrylic nails, it's easy to lose a nail and ruin the look of your manicure.
Your nails, natural or acrylic, can be painted with whatever colors, designs, and embellishments you like, but for practical reasons, it's best to keep nails fairly short.
You'll figure out the practical length you can work with once you've got a few shifts under your belt.
Does Marshalls Allow Colored Hair?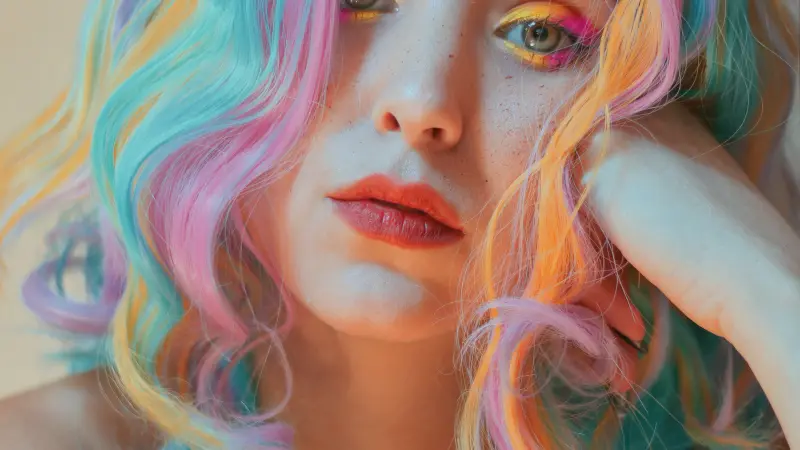 What does the Marshalls employee dress code say about hair color?
Usually, you'll be allowed to wear whatever hair color you want to and this includes the range of unnatural hair colors that are currently popular.
If you interviewed with blue, green, pink, or purple hair and Marshalls hired you, then you've already got your answer. Your store management is fine with your hair color.
And if you're thinking about applying for a job and you're not sure if you should change your hair color, go ahead and apply, then when you go to the store for your interview, just ask the manager if your hair color is compatible with their dress code.
What's Marshalls' Policy About Visible Tattoos?
The last thing we need to cover in this Marshalls dress code guide is their attitude toward visible tattoos.
In general, non-offensive visible tattoos are perfectly okay, but your manager could ask you to conceal any tattoos that they consider problematic. So you may be asked to wear a shirt with a collar to cover a neck tattoo or to wear long sleeves to cover offensive or lewd tattoos on your arms.
Summary and Recap
The dress code at Marshall's is smart casual. You can wear jeans or slacks, knee-length skirts and dresses, tee shirts, polos, button-down shirts, sweaters, cardigans, and jackets. Tops should have sleeves and shoes should be closed-toe.
You can't wear leisure wear or workout gear, and while you aren't restricted on pattern or color, you cannot wear clothing that displays large logos, messages, or graphic designs.
Employees don't usually face restrictions on hair style or color, makeup, jewelry, piercings, or body art, and you can always double-check what your store manager considers acceptable when you attend orientation.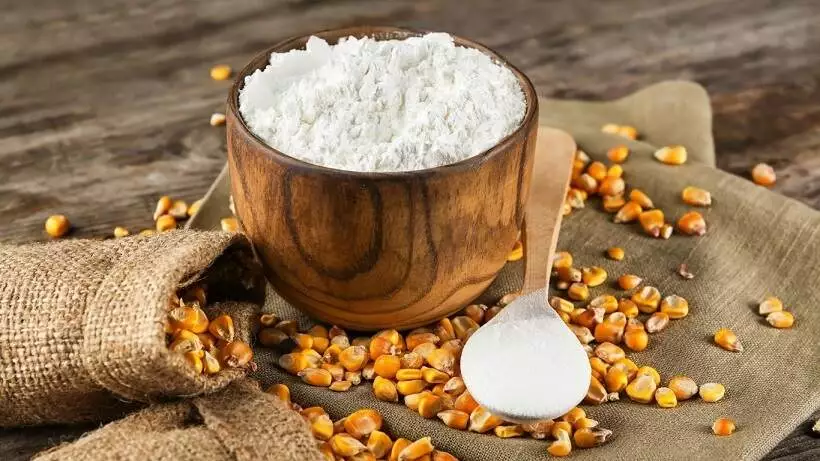 I am Alexi Brains, and I am the head writer, editor, and co-founder of FoodItems.org