Walmart carpet cleaner rental is an affordable way to benefit from professional-level cleaning on your fitted carpets, area rugs, and upholstery.
When you rent a carpet cleaner from Walmart, you get to use the impressive Rug Doctor commercial-grade carpet cleaner. Rug Doctor carpet cleaners are easy to use and you'll be thrilled with the results. Rental prices range from $30 to $50, depending on the model and rental period you choose.
In this guide, we'll run through the carpet cleaner rental Walmart options and current pricing, and we'll explain how to rent and return a carpet cleaning machine using the Rug Doctor kiosk at Walmart.
We'll also walk you through using the carpet cleaner and tell you how to get a discount on your carpet cleaner rental.
Renting Your Carpet Cleaner, Walmart Rental Kiosk Locations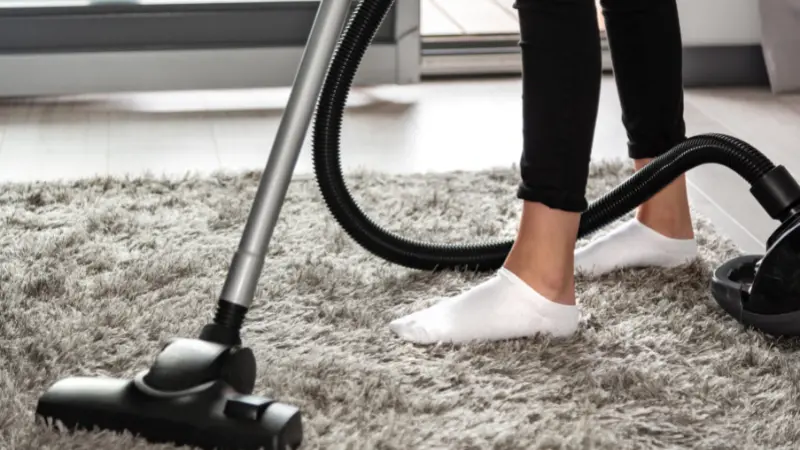 First things first – find out if your local Walmart offers carpet cleaner rental. Walmart has Rug Doctor kiosks in many stores, but you won't find a kiosk at every Walmart. Check before you head out to save yourself a wasted trip.
Use the Rug Doctor location tool at https://www.rugdoctor.com/rent/. Pop your Zip Code into the search box, then check through the results to confirm that your local Walmart has a carpet cleaner rental kiosk.
You'll see plenty of other local rental options if you can't get a Walmart rental. Carpet cleaners from Rug Doctor kiosks are also available at stores like Lowes, Kroger, PetSmart, Home Depot, and Ace Hardware.
Another way to find out if your local Walmart rents carpet cleaners are to open Google Maps or Apple Maps and enter "Walmart carpet cleaner rental near me".
While you're on the Rug Doctor website, don't miss your downloadable $3 discount coupon. Just head to Rug doctor Rentals and enter your name, Zip Code, and email address to get your discount.
Recent Article: Walmart Receipt Lookup
What Types Of Carpet Cleaner Can You Rent At Walmart?
For carpet cleaner rental, Walmart is hard to beat for convenience and affordability.
At Walmart, you can rent large carpet cleaners to use on fitted carpets, area rugs, stairs, and upholstery.
If you only need to do some spot cleaning or want to clean the seats and carpets in your vehicle, pick up a portable detailer instead.
Walmart Rental Carpet Cleaners, Options For Rooms And Rugs
Rug Doctor offers two types of large carpet cleaning machines at their Walmart rental kiosks.
#1. Rug Doctor Pro Deep Cleaner
Out of the two models, the Pro Deep Cleaner is the most versatile. It's a lighter-weight carpet cleaner, which makes it easier to handle and less tiring to use.
Plus, with this model, you have the option of renting the attachment tool you'll need if you want to clean upholstery, stairs, pet beds, mattresses, vehicle interiors, hard floors, and tiles.
When you rent the Rug Doctor Pro carpet cleaner from Walmart, you get a machine with an industrial-grade motor and a robust cleaning head.
With its combination of deep cleaning and powerful suction, you'll remove 90% – 100% of the dirt embedded in your carpets.
#2. Rug Doctor X3 Carpet Cleaner
This carpet cleaner is a more traditional one-pass model that cleans on the backward pull. The X3 carpet cleaner injects cleaning solution deep into your carpet fibers and uses its triple-action vibrating brush to scrub away up to 89% of the dirt in your carpet.
The industrial motor provides powerful suction which reduces carpet drying time, and with its large 3-gallon clean water tank and 3.9-gallon dirty water tank, the X3 lets you clean for longer between refills.
Walmart Rental Carpet Cleaner Options For Spot Cleaning
The only model you can choose for spot cleaning and detailing is the Rug Doctor Pro Portable.
Rug Doctor Pro Portable Detailer And Spot Cleaner
The Pro Portable Detailer and Spot Cleaner use a motorized brush for powerful cleaning.
Choose this small, portable carpet cleaner if you only need to deal with a small area on your carpet, or if you want to give your car or truck a deep clean.
This model is perfect for spot-cleaning stains on your carpet and for refreshing grubby upholstery on your couch. It's also ideal for spring cleaning your mattresses, or for giving your bathroom tile a deep clean.
How To Rent A Carpet Cleaner At Walmart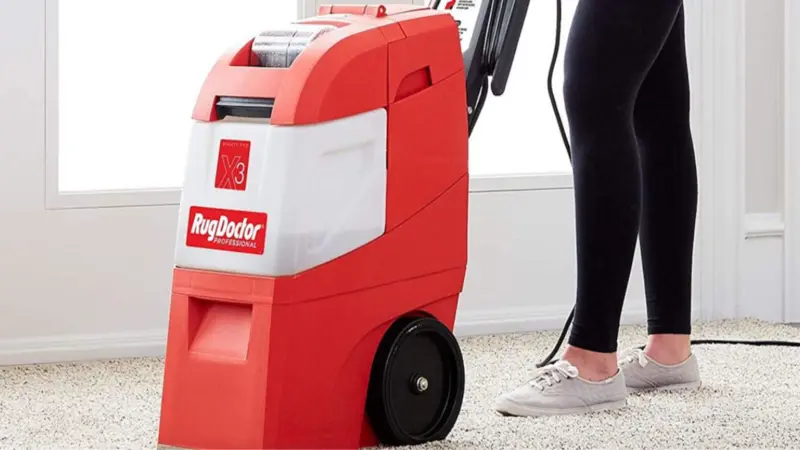 You'll find the self-service Rug Doctor kiosk near the Walmart customer service counter.
At the kiosk, use the touch screen to select instructions in English or Espanol.
Choose the type of carpet cleaner you want to use. The price for each model is shown on the screen.
Follow the prompts to select an attachment tool if you need one.
Select the rental period.
Enter your name, address, and phone number.
Pay for your carpet cleaner rental by swiping your credit or debit card (your card will be charged when you return the carpet cleaner).
The kiosk will open and you can take the carpet cleaner home.
The carpet cleaner rental doesn't include any cleaning solution, you'll need to buy that separately. Rug Doctor has a great range of kid and pet-safe carpet and upholstery cleaners, but you can use any brand you like.
As a guide, a 48-ounce bottle of Rug Doctor Triple Action Cleaner runs at around $16 at Walmart, and the Pet Deep Cleaner costs around $18.
How Much Is Carpet Cleaner Rental At Walmart?
Please note: Walmart rug doctor rental charges can change at any time. Check the Rug Doctor website for the most up-to-date pricing.
The price you'll pay for your rug doctor rental at Walmart depends on the model you rent, and the rental period you choose.
The Rug Doctor Pro currently costs $39.99 for a 24-hour rental.
A 48-hour rental costs $49.99. The 48-hour rental is the most cost-effective option if you've got a lot of carpets and upholstery to clean because the second day only costs an extra $10.
The attachment tool for upholstery costs an additional $5.99 to rent.
The Rug Doctor X3 carpet cleaner costs $34.99 for a 24-hour rental. If you want to rent an X3 machine for 48 hours, the cost is $44.99.
Rug Doctor's Pro Portable Detailer and Spot Cleaner cost $29.99 for a 24-hour rental. There's also the option of a 4-hour rental at selected locations, which costs $19.99.
You must return your carpet cleaner within the rental period, or you'll face an extra charge. If you're late with your return, even by half an hour, you'll be charged for another full 24-hour rental period. It's a good idea to set an alarm on your phone to remind you an hour or two before your rental period expires.
As you can see, for a Rug Doctor carpet cleaner, Walmart rental prices are super affordable. And a 24-hour or 48-hour rental gives you a lot more bang for your cleaning buck than hiring one of those $99, 3-room carpet cleaning services.
Which Is the Best Option: A 24-Hour or 48-Hour Rental?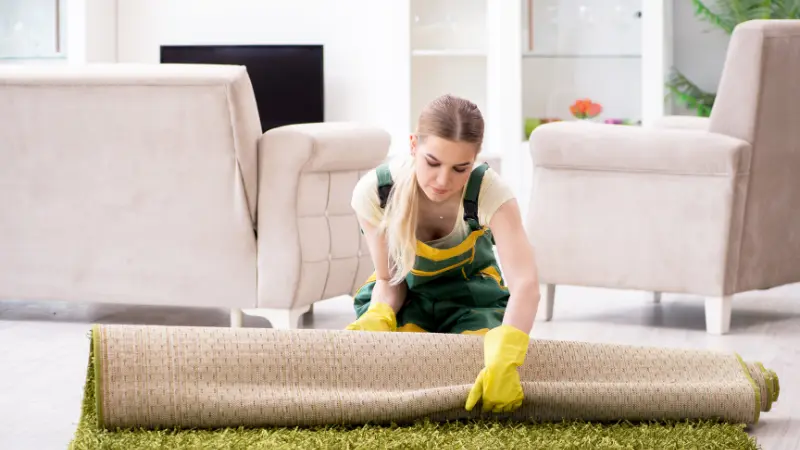 With a large Rug Doctor carpet cleaning machine from Walmart, it takes about 20 minutes to clean an average-sized room. Add an extra 10-15 minutes if you need to move furniture out of the way as you clean.
Operating a carpet cleaner is hard work, even with a lighter-weight machine, so you'll want to take a break now and then. And you need to factor in the time it's going to take to empty the dirty water tank and refill the clean water tank.
Taking everything into account, it's safe to allow one hour per average-sized room.
If you need to clean a living room, family room, office, hallway, and 4 bedrooms, you're looking at ‌8 hours of cleaning time, and you could certainly fit all of that cleaning into a 24-hour rental period.
Choose the 48-hour rental option if you've got a larger home, or if you plan to clean your upholstery as well as your carpets.
Here's How To Use Walmart's Carpet Cleaner
Tip: Go to the Rug Doctor website to watch the quick instructional video for your model.
How To Use The Rug Doctor Pro Deep Clean Carpet Cleaner
Vacuum your carpets.
Press the clean water tank release button.
Fill the tank to the fill line with hot water from your tap.
Use the tank cap to measure the correct amount of cleaning solution. Pour the cleaning solution into the tank and replace the tank cap.
Put the tank back on the carpet cleaner.
Plug the machine into your power outlet.
Release the handle and set the toggle button to "carpet".
Squeeze the "soap and scrub" button as you push the machine forward a short distance and pull it back towards you – just like running a vacuum cleaner.
Go over each lane of your carpet twice using the back-and-forth motion.
Release the "soap and scrub" button and go over each lane forwards and backward another two times.
When the indicator light tells you to refill the clean water tank, remove both tanks from the machine. Empty the dirty water into your toilet.
Fill the clean water tank with more hot water and cleaning solution. Replace the tanks and continue cleaning.
How to Use The X3 Carpet Cleaner
Vacuum your carpets.
Lift the lid on top of the carpet cleaner, then remove the white tank.
Pour 2 gallons of hot water and cleaning solution mixture into the lower tank.
Replace the white tank and close the lid.
Plug the carpet cleaner into your power outlet.
Release the handle on the carpet cleaner and pull it into a comfortable position.
Set the switch to "carpet", then press the button and keep it pressed as you walk backward and pull the carpet cleaner towards you.
At the end of the run, release the button, tilt the machine back onto its wheels, and push the carpet cleaner into position to clean the next lane of your carpet.
When it's time to refill the cleaning tank, remove the white tank and dispose of the dirty water in your toilet.
Pour more water and cleaning solution into the bottom tank.
Replace the white tank, close the lid, and continue cleaning.
How to Return Your Walmart Carpet Cleaner Rental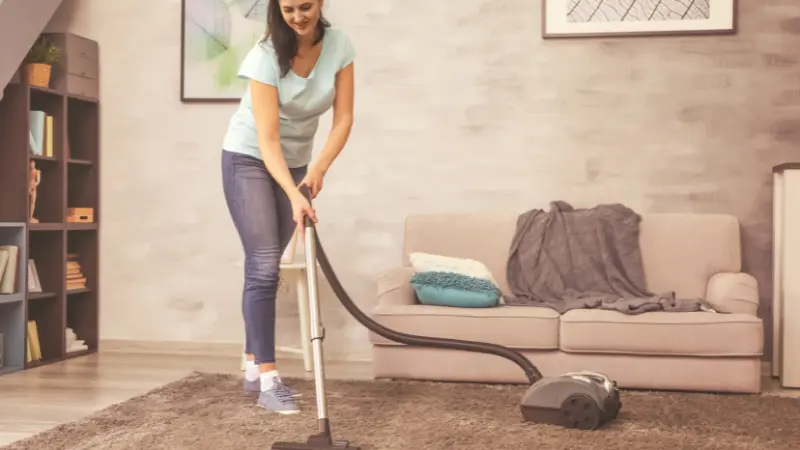 When you finish cleaning your carpets and upholstery, you must clean the machine. If you return a dirty machine, you'll be charged a cleaning fee.
To clean the dirty water tank, empty the water, add some clean water, and replace the cap. Give the tank a good shake to dislodge the accumulated sludge at the bottom of the tank. Empty the tank, and rinse again with clean water.
Rinse the clean water tank.
Wipe the outside of the tanks with a damp cloth, then place them back onto the carpet cleaner.
Wipe the rest of the cleaner with a damp cloth and make sure the handle area isn't dirty.
Lay the carpet cleaner on its side and remove dirt and debris from the cleaning head.
If you used the attachment tool, drain the water from the hose by running the machine without pressing the attachment trigger.
Return the carpet cleaner to the Rug Doctor kiosk at Walmart, and follow the instructions on the screen.
Conclusion – Is Walmart Rug Doctor Rental Worth It?
When you rent a Rug Doctor carpet cleaner from Walmart, you get a commercial-grade carpet cleaner and professional carpet cleaning results at a fraction of the cost you'll pay to bring in a carpet cleaning service.
A 24-hour rental period is plenty of time to clean all the carpets in an average-sized home, and for larger homes, you've got the option of a 48-hour rental for a slightly higher price.
Rug Doctor machines are easy to operate, and they're powerful enough to pull years of dirt and grime out of your carpets.
Go ahead and rent a Rug Doctor from Walmart. You won't regret it.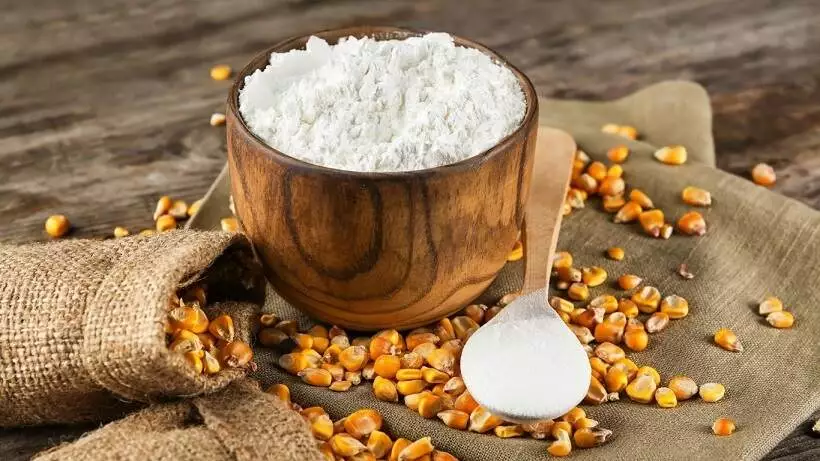 I am Alexi Brains, and I am the head writer, editor, and co-founder of FoodItems.org