In this article, we'll answer the most common questions about parcel lockers, starting with, what is a USPS parcel locker?
USPS Parcel lockers are available in communities that use USPS Cluster Boxes in a central mail delivery location.
If you've never used a parcel locker before, then you're bound to have questions because parcel lockers can be confusing.
What Is A USPS Parcel Locker in 2023?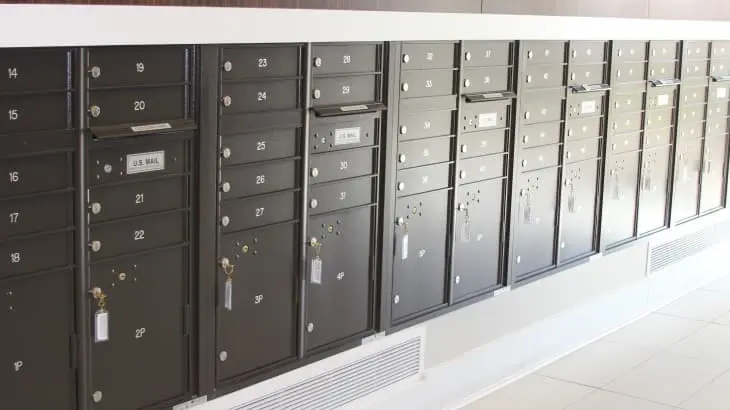 A USPS parcel locker is a special parcel locker that your mail carrier has access to.
If you live in an apartment or condo complex, a mobile home park, or a managed residential community, you may have USPS parcel lockers in your community mailbox area.
You'll most likely already have your regular mail delivered to a Cluster Box. A Cluster Box Unit (CBU) holds multiple individual mailboxes that are opened with a key.
These CBUs make mail delivery more efficient for your mail carrier, but they've traditionally lacked the ability to receive anything other than mail and small packages.
But times change because the growth of online shopping means that larger packages are now a regular part of mail delivery.
To accommodate larger packages, the USPS approved the use of parcel lockers which are simply large mailboxes. These large mailboxes are called parcel lockers and they may be part of a CBU, or they may be a standalone parcel locker unit in the community mailbox area.
Now, when your mail carrier has a package that is too large for your personal mailbox, they will leave it in an approved USPS parcel locker.
Parcel lockers offer increased convenience for you because you no longer need to make a trip to the Post Office after finding a package collection notice in your mailbox.
And parcel lockers eliminate the security issues that are commonplace when packages are simply left alongside communal mailboxes.
How To Get Your Package From A Community USPS Parcel Locker
When your mail carrier delivers a package that is too big to fit in your personal mailbox, they'll place your package in a parcel locker and leave the key for that locker in your mailbox.
So, when you go to check your mail and find a key in your mailbox, it means there's a package waiting for you.
Take that key and look at the instructions printed on the plastic tab attached to the key.
The instructions will tell you which parcel locker contains your package.
If the CBU has parcel lockers within the mailbox unit, you'll find the lockers underneath the rows of mailboxes. Otherwise, you'll find a set of parcel lockers nearby.
If you receive a USPS tracking notification on your phone or email informing you that your parcel has been delivered to a parcel locker, you need to go to your personal mailbox first to retrieve the key.
Some parcel lockers have digital locks. If your package has been delivered to a digital parcel locker, you'll receive a message containing an access code and the location of the locker.
How Do I Open A USPS Parcel Locker?
To open the parcel locker, insert the key that was left for you and turn it until the lock releases. Retrieve your package, then close the locker door.
The key remains in the lock, so don't try to remove it. The key won't come out until a mail carrier releases it by using their Arrow Key in the secondary lock.
The next time the mail carrier has a package for the parcel locker, they will deliver the package, remove the key, and place the key in the corresponding mailbox.
What If My Package Isn't In The Parcel Locker?
If the parcel locker is empty, then your mail carrier has made a mistake with your delivery. You'll need to contact your local Post Office and give them your tracking number so that they can locate your package.
They'll deliver your package on their next mail run or ask you to go in and pick it up at the Post Office.
Where To Find Your USPS Package Locker
If you're a new resident, you should already be set up with your mailbox key and have been shown the mailbox location. USPS lockers are located in the same units as the mailboxes or in standalone units nearby.
If you can't find the parcel lockers at all, or can't find the locker number that corresponds to your key or access code, you'll need to ask at your complex or HOA office.
In some cases, you might receive a notification that your package is in a parcel locker but your community doesn't have parcel lockers. When this happens, the mail carrier has made a mistake with the notice you received.
Your package could be at the package holding area set up for your building or development, or it could be back at the Post Office waiting for you to pick it up.
Are USPS Parcel Lockers Free?
Your building owner or community Homeowners Association (HOA) pays for the installation of parcel lockers and there is no fee for residents to have their parcels delivered to a parcel locker.
Is A USPS Parcel Locker Safe?
Postal lockers are very safe, and they're a much better option than having your package left out in the open near the community mailboxes where anyone could take off with it.
Once your package is in a USPS parcel locker, the only person who can get it is you.
How Long Can A Package Stay In A USPS Parcel Locker?
Unfortunately, there isn't a definite answer to this question. It depends on your mail carrier, and the volume of packages they need to deliver.
Mail carriers tend to remove packages regularly so that unclaimed packages don't delay deliveries for other residents.
Postal carriers report removing packages after 2 to 3 days if community lockers are full.
If you're going to be away and unable to pick up packages, contact your Post Office or sign in to your USPS account to put a hold on your deliveries until you get back.
Putting a hold on your mail via your USPS account is easy to do once you've set up your account. To create your account, you'll need to enter your personal details and verify your address and identity. From there, you can select the option to hold your mail and specify the dates.
The USPS will hold your mail for 30 days.
Read Also: Does UPS Deliver On Sunday?
What To Do If The Key Won't Open The Parcel Locker?
When the key won't open the parcel locker you're in for a frustrating time, unless you've made a mistake with the locker you're trying to open.
The first thing to do is double-check the number on the key tab and make sure it corresponds to the number on the parcel locker.
Next, try the other parcel lockers to see if the key fits any of those – sometimes keys are mislabeled.
If neither of those steps opens a locker, you'll need to carefully wiggle the key in the lock and see if you can get it to open.
A faulty lock is usually the result of careless use by other residents over time. Some people don't put the key in all the way, then try to turn it, which can cause damage to the lock. Others pull the key out too hard or slam the door shut, which damages the latch.
Sometimes the weather is the culprit. If it's raining, wait until the rain stops, then try again. Freezing weather can also seize the lock.
Often people resort to squirting a little WD-40 into the lock or using a few drops of 3-in-1 oil.
If you've wiggled and jiggled the key with no success, sometimes a hard slam against the door can help release the latch.
Check to make sure the key is all the way in the lock. If it isn't and it won't go in any further, you can try tapping the key with a hammer to push it all the way in.
Still no luck? You've got a few options.
If you're at home when your mail carrier delivers to your location, wait by the mailboxes and get the carrier to retrieve the package for you. They have access to a feature that opens the front of the entire mailbox unit.
Call the Post Office and tell them that the locker won't open and ask them to deliver the package to your door, or take it to the Post Office, where you can collect it later.
You could also tape a note to the parcel locker asking the mail carrier to put the package in a locker that actually works.
What's The Difference Between USPS Parcel Lockers And USPS Gopost Parcel Lockers?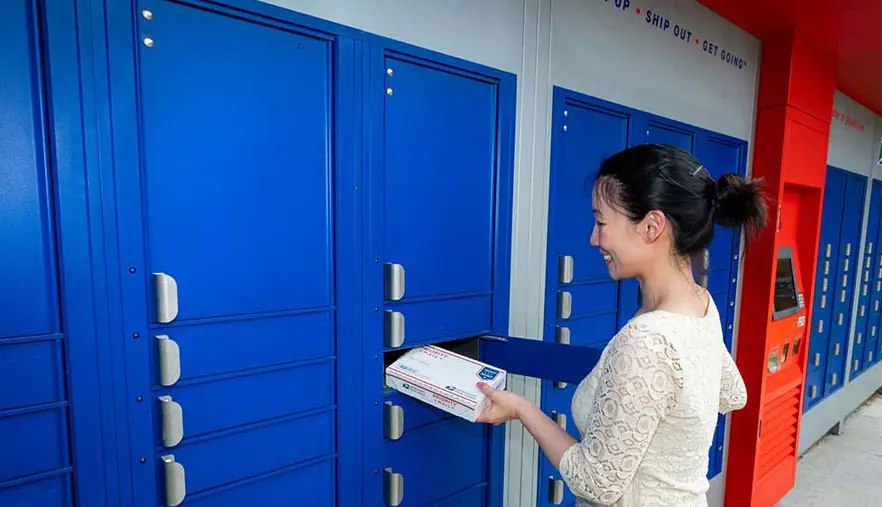 USPS parcel lockers are part of your normal United States Postal Service mail delivery. These parcel lockers are available to individuals that collect their mail from a mailbox in a community mailbox area.
You don't need to set anything up to receive packages to your USPS parcel locker.
Gopost parcel lockers are available to anyone who wants one. The lockers are situated in convenient locations where you can pick up your parcels 24 hours a day at whatever time suits you. Parcels are held for 15 days.
To use USPS gopost lockers, you need to register for the service. There's no cost involved and there are two ways to get your account set up.
First, you'll need to open a gopost account at the gopost website. Enter your details, create a PIN, and select a verification method. You can choose to have a gopost card sent to your address or you can verify at a gopost unit.
You'll receive an email with your registration details.
If you chose to verify your identity at a Post Office, you need to wait for the gopost card to arrive, then fill in the form that came with it and takes it to a Post Office along with your driver's license or state-issued ID.
For verification at a gopost parcel locker, simply scan your ID once you've logged in at the unit.
To have a package sent to a gopost unit, you need to use the address of the unit rather than your home address.
Package address details must include your name, the gopost unit number and your gopost account number, followed by the city, state, and ZIP Code.
When a package arrives at a gopost locker, you'll receive a notification telling you that it's ready to pick up.
At the gopost unit, scan your gopost card and enter your PIN. If it's a sign for the delivery, make your signature on the screen with your finger.
The screen will then show you which locker your package is in. The locker will light up and the door unlocks automatically.
USPS Parcel Lockers Summary
For residents at apartment buildings and managed neighborhoods, USPS parcel lockers offer a convenient and secure way to receive packages that are too large for a standard mailbox.
When your mail carrier delivers your package to the parcel locker, they place the locker key inside your mailbox and the key has a tab attached identifying the locker that it opens.
USPS parcel lockers are often part of a mailbox unit and are found underneath the rows of mailbox compartments. Sometimes, the parcel lockers are next to the mailboxes or are very close by.
An alternative to a USPS parcel locker is a USPS gopost locker. You need to register for a free account and verify your identity to use these lockers, then you can have packages sent directly to the gopost locker where you can pick them up anytime that suits you.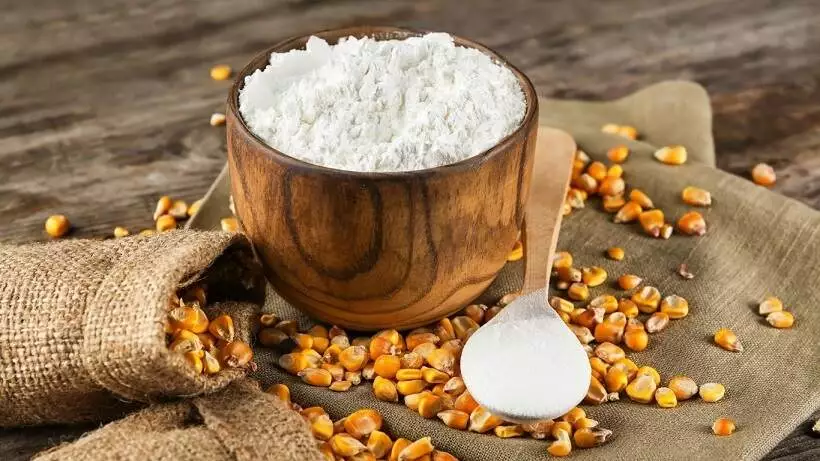 I am Alexi Brains, and I am the head writer, editor, and co-founder of FoodItems.org